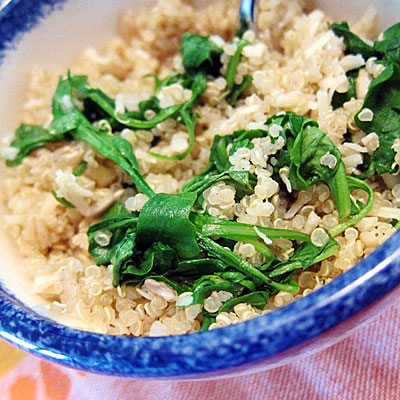 Quinoa Salad With Arugula and Sunflower Seeds
Ingredients:
1 cup cooked quinoa, 2 large handfuls of arugula, 1/4 cup shredded full-flavored cheese, 2 tbsp. sunflower seeds, 1 tsp. truffle oil

Combine quinoa and arugula in a microwave-safe bowl and microwave for 60 seconds until the arugula wilts. Remove quinoa from microwave and stir in cheese, sunflower seeds, and truffle oil. Serve warm or cold.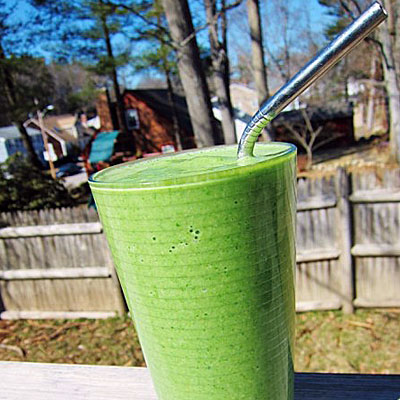 Coconut-Kale Smoothie
Ingredients:
1 cup frozen chopped kale, 1 banana, 1 1/2 cups coconut milk, 1 tbsp. ground flaxseed meal, 1 tbsp. honey, 1/4 tsp. coconut extract, a handful ice

Combine all ingredients in a blender until smooth.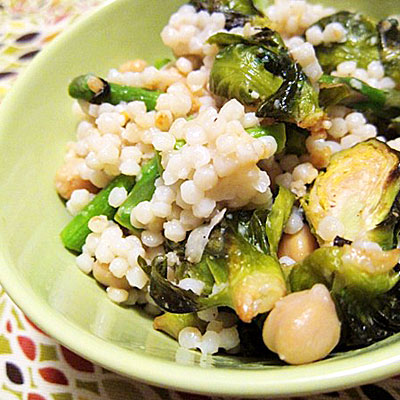 Israeli Couscous With Chickpeas, Brussels Sprouts, and Asparagus
Ingredients:
3/4 pound Brussels sprouts, 1 medium bunch of asparagus (about 20 spears), 1 15-oz. can of chickpeas, rinsed and drained, 2 cups uncooked Israeli couscous, 2 1/2 tbsp. lemon juice, 5-6 cloves of garlic, minced, 1/2 cup grated Parmesan, salt and pepper to taste

Preheat oven to 425 degrees. Cut Brussels sprouts in half, toss with olive oil, salt, and pepper. Roast for 20-22 minutes. Cook couscous according to package instructions, and chop asparagus and steam. Once the sprouts, couscous, and asparagus are finished, combine in a large bowl with chickpeas, lemon juice, garlic, Parmesan, salt, and pepper. Stir together and serve immediately.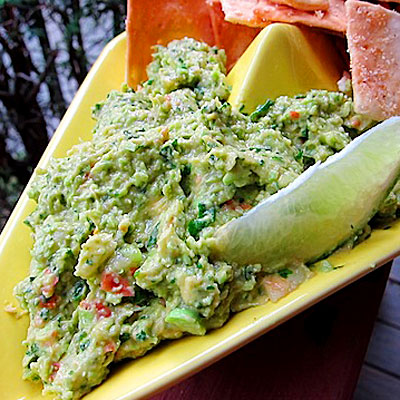 Edamame Guacamole
Ingredients:
1 ripe avocado, 1 cup edamame, shelled, 1 lime, juiced, 1 Chipotle pepper in Adobo sauce, 2 tsp. minced garlic, 1/3 bunch of cilantro, 1/2 cup chopped tomato, 1/4 cup chopped onion, salt and pepper to taste

Combine all ingredients in a food processor until smooth. Serve cold with pita chips, tortilla chips, or crackers.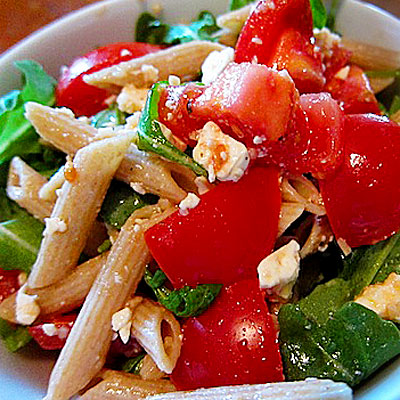 Pasta Salad With Tomatoes, Arugula, and Feta
Ingredients:
6 oz. uncooked whole wheat penne, 2 tbsp. olive oil, 1 tbsp. cider vinegar, 1 tbsp. minced garlic, 3 cups chopped tomatoes, 3 ounces crumbled feta, 2 big handfuls of arugula

Cook pasta according to directions on package. Combine all ingredients, except for arugula and feta, in a large mixing bowl. Once cooked, drain, and transfer pasta to large mixing bowl; toss well. Cool pasta in the refrigerator for 2-3 hours or overnight. Add arugula and feta just before serving.
(**recipes from health.com)